Company Parties & Special Events
Group Rental
Station 300 Saline is the perfect venue for your next group or company outing.
We can provide a great, interactive setting for your company, group, social club or other organization!
Station 300 Saline hosts many company parties throughout the year. Hosting a bowling party can boost morale, increase communication, and make your staff more productive.
Station 300 Saline is the perfect venue to treat your friends, family and co-workers to a fabulous private party they are sure to enjoy. We can accommodate small, intimate gatherings, medium-sized groups of thirty to forty, or huge parties of more than a hundred. We have a banquet room available as well as our lounge area that you can utilize.
As far as food, you can order off of our regular menu or we have a separate banquet menu. The banquet menu is anywhere from a taco bar to a cracker and cheese platter. If there is ever anything you think of that we do not show on our menus, just ask, I'm sure we can do it!
AND we can do it within your budget.
Make your private parties as unforgettable as they are special!
Birthday Parties (our specialty!)
Fund Raisers
Christmas Parties
Halloween Parties
Wedding Receptions
Rehearsal Dinners
Corporate Meetings
Bridal Showers
Baby Showers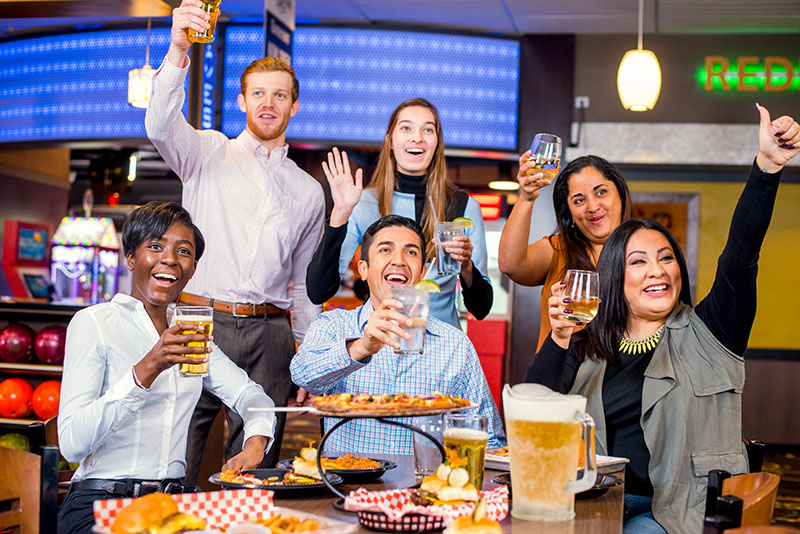 Add Some Great Entertainment to Your Private Party
Comedy magician Mark Bulick knows how to turn any private party into a truly unique event, creating memories that will last your guests a lifetime.
Take your event to the next level by adding a Comedy Magic Show to your private party at Station 300 Saline. You'll be glad you did!
Use the form on this page, or call us today to set up your outing: (734) 429-5457